Hay House South Africa are offering the chance for TWO readers to each win a copy of Donna Gates's book, The Body Ecology Diet! Read to the end for entry details.
I was so excited to read the recently revised first and most popular of Donna Gates's book,
The Body Ecology Diet
. It is based on her health philosophy which she has built her booming health empire on, and I have heard so many good things about it from many people I admire and respect, including David Wolfe!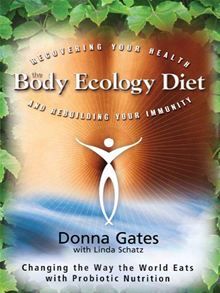 Nutritionist Donna Gates's explains that all life originally began as or from bacteria, and yet we
since the days of Louis Pasteur we have viewed bacteria as the enemy
and have created a modern medicine system based on fighting these bacteria. The result? People with poor or non existent inner ecosystems - which are SO essential for digestion, nutrient absorption, our immune system and more!
The Body Ecology Diet
is all about balance, getting your body and specifically the microorganisms present in your gut, back into balance, which is essential for the daily functioning of your body. It shows you how to restore your inner ecosystem your body needs to function optimally, and to eliminate and control all those symptoms that rob your life of joy, Body Ecology claims to increase your mental awareness and concentration span, increase your energy and get to your optimum muscle to fat ratio.
I enjoyed reading this book immensely. The title is a bit misleading, as I generally avoid 'fad diet' type books, but
The Body Ecology Diet
is indeed a well-researched and supported way of life, there is nothing 'fad diet' about it. Donna Gates has spent years researching and studying in the modalities of modern medicine, Chinese medicine and Naturopathy and is a respected author on the topic of Candida overgrowth, probiotics and cultured vegetables.
I was diagnosed with Candidiasis years ago by a local Naturopath, and I duly cut out sugar and followed a typical 'Candida diet'. I definitely started to feel better, but still carry some of the symptoms today, and I think that Donna really has something different to offer than your average 'Candida diet'. This difference is the quality of research Donna did before writing her book, and her practice as a health consultant helping tons of people overcome Candida and more. Also, her emphasis on cultured vegetables, good quality fats, and the extent in which she recommends going to reduce your sugar and carbohydrate intake makes complete sense to me after my studies in nutrition.
I found this book really easy to read, easy to use, easy to refer back to recipes and important chapters and it contains lovely charts and infographics. It includes recipes, menu's and shopping lists, and I can recommend it for anyone that suffers with fatigue, general weariness, a poor immune-system and lingering symptoms of any sort.
There is even fantastic and very large
online community
of support available for followers of The Body Ecology Diet.
You should read this book if...
You suspect or know you have candidiasis (CRC), chronic fatigue syndrome, cancer, AIDS, or other immune-system deficiencies.
You have known or suspected food allergies or frequent digestive problems.
You have frequent skin rashes, constipation, or PMS.
You are bothered by headaches, or muscle or joint pains.
You always seem to be tired, nervous, or depressed, or your memory seems to be poor.
You are sensitive to tobacco, perfume or other chemical odours.
You have taken birth-control pills.
You have been plagued and frustrated by symptoms that persist no matter what you do to get rid of them.
You have a history of drug use, including extensive use of antibiotics or illegal drugs.
You want to ensure the health of your children and other loved ones.
You want to prevent major disease that doesn't manifest until years after the seeds have been sown: cancer, AIDS, heart disease.
BUY IT!
You can purchase your own copy of
The Body Ecology Diet online from Hay House South Africa
for R 185.95.
WIN IT!
For your own chance to win one of two copies of The Body Ecology Diet, enter by leaving a comment and using the Rafflecopter system below.
The winner will receive all three products.
Contest is open to SOUTH AFRICA ONLY.
MANDATORY ENTRY: Visit the Hay House South Africa website and leave a comment here telling me the title of one of their books / products that you would like to read / watch / listen too! You must enter your name and email address in the Rafflecopter entry system for your entry to count, after leaving a comment on this blog post.
Leave a valid email address
so I can contact you if you win. Email addresses in Rafflecopter are not made publicly visible. Please leave the same valid email address in your mandatory comment so I can verify entries. You may leave it like this: christine [at] africanbabiesdontcry.com to foil spambots.
BONUS ENTRIES:
See the Rafflecopter entry system for bonus entries to increase your chance of winning after completing the mandatory entry. All bonus entries are entered directly into Rafflecopter.
Give it a try, and email or leave a comment if you have any questions!
Contest closes 1 July 2013 at 11:59 p.m. (GMT+2)
a Rafflecopter giveaway